Exhaust Pipes
Long Strokes Exhaust Pipes
... (more)
Bad Dad's Long Strokes Exhaust Pipes are the perfect pipe to complement your new Stretched Saddlebags!
Aesthetically these custom pipes will give the back of your custom Bagger a smooth, flush and symmetrical look. The pipe's length is adjustable and allows you to set the pipe to slightly extend beyond the back of your Stretched Bags and reveal the angle cut chrome tip. The pipe's 4" diameter opening is the right size for the back of your Bagger- not too big, not too small. Don't let your pipes be hidden underneath those custom bags; Bad Dad's Long Strokes are the perfect look for your custom Bagger!
These custom slip-ons feature a 2-1/2" baffle that will give you a rich, deep sound without waking your neighbors. Pipes fit 1995-current Touring models with a dual headpipe.
Bad Dad's Long Strokes have a 2" inlet which means they fit headers that are 1-7/8" and 1-3/4" diameter, including all stock headpipes and most aftermarket headers. Available in chrome and black ceramic.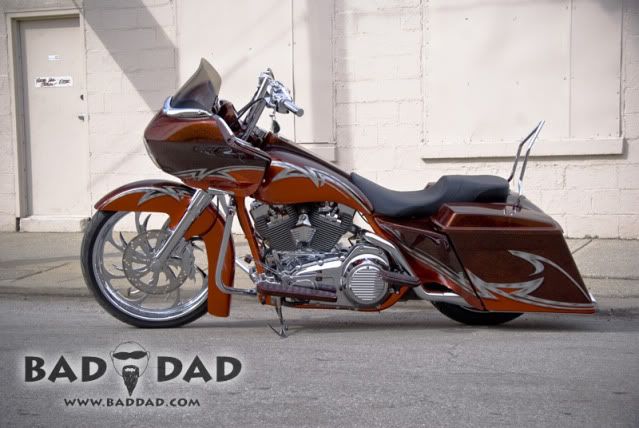 Long Strokes True Dual Headers
... (more)
A perfect match for a set of Long Strokes Exhaust Pipes! These true dual headers are made by Freedom Performance and they are a great fit with Bad Dad's Long Strokes or your preferred dual slip-on of choice.
Not only does this header and slip-on combination sound great, these true dual headers feature a full 270* chrome heat shield to give you the classy look that all of Bad Dad's bikes have in common. These dual headers are available for both 1995-2008 and 2009-2012 Baggers.